Suitcase Serenata
New CD from i Viaggiatori
Click here to buy online or from Illawarra Folk Club Store or from Trad&Now
Distribution by Black Market Music in March 2010 - ask for it at your local CD store.
Enquiries to info@viaggiatori.com.au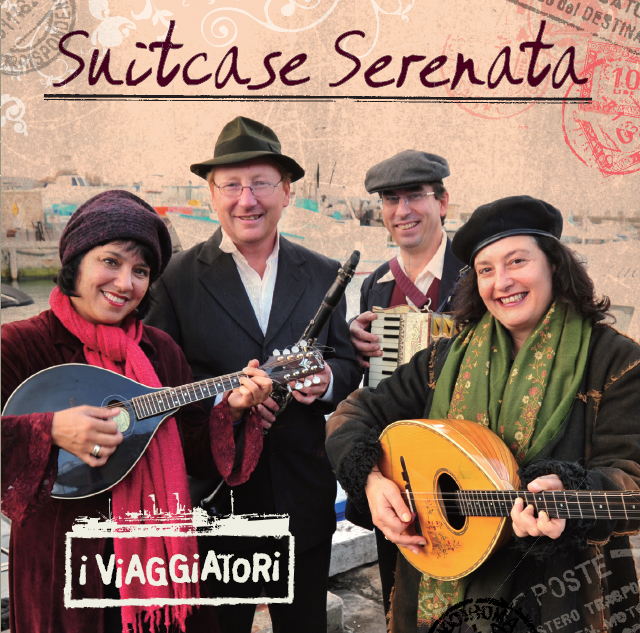 When ARIA award winners Kavisha Mazzella and Irine Vela team up with Wollongong's own David De Santi and Mark Holder-Keeping from the legendary Zumpa band they become "I Viaggiatori" - The Voyagers.
I Viaggiatori play lively, old time Italian folk music from the 19th century and beyond. It's romantic, poignant, frenzied ,sweet and earthy. It's a place where memory sits down with imagination to share a good coff ee and a glass of grappa then have a good yarn.
It's also a place where accordions, clarinets, bouzoukis, mandolins and tambourines dance with sensual, earthy vocals.
Drawn from over 400 years of storytelling, these songs from Italy and Greece tell of harvests, war and revolution, factory protests, seductions, weddings, funerals and the brave act of migration. The rich melodies make your feet dance and heart sway with abandon.
i Viaggiatori would like to thank our friends, family and the people that passed on the traditions and songs.
Review - SETH JORDAN, ABC Limelight Magazine, May 2010 I
I Viaggiatori (The Voyagers) is a bit of an Aussie world/folk supergroup.
Formed in 2006 by veteran Italian/Australian singer/songwriter Kavisha Mazzella to provide a score for the silent film documentary Dall' Italia All' Australia, the quartet also features Greek bouzouki / mandolin player Irine Vela (Habibis); accordion virtuoso David De Santi (Wongawilli/Zumpa); and clarinet / saxophonist Mark Holder-Keeping (Cantolibre/Zumpa).
With a charming combination of Italian standards, original songs by Mazzella and a touching version of 'Waltzing Matilda', this all-acoustic album chronicles the hopes and memories of our Italian community.
An authentic, joyous and well-performed musical travelogue.