Home / Casa

I Viaggiatori
Be transported with I VIAGGIATORI to forgotten fishing villages, moonlit olive groves, and a hard life under a hot sun where women sang melancholy songs of lost love, displacement and revolution and fought hardship with a fierce sense of humour. The band of Kavisha Mazzella, Irine Vela, David De Santi and Mark-Holder Keeping provide the sounds of folk, Celtic, gypsy, blues and Italian world music woven expertly together.
Kavisha Mazzella (singer, guitar, accordion, percussion)
Irine Vela (bouzouki, guitar, mandolin)
David De Santi (piano accordion)
Mark Holder-Keeping (saxophone, clarinet).
I Viaggiatori is a truly multicultural and cosmopolitan combination with Kavisha Mazzella and Irine Vela from Melbourne and Mark Holder-Keeping and David De Santi from Wollongong. They bring together varying musical experiences but combine to present sensitive and harmonious renditions of new and old Italian folk songs. Kavisha grew up in the Italian quarter of Fremantle,WA while David grew up in the Illawarra region of NSW!
They can perform in concert format or present music they perform for the silent Italian documenatary film Dall' Italia All' Australia.
Contact: David De Santi - info@viaggiatori.com.au
The Music
CLICK HERE FOR YOUTUBE CLIP of Bella Ciao (Woodford Folk Festival)
Sound Samples for: Bella Ciao, Canzone Della Lega, Cuiccu, Mamma Mia Dammi Cento Lire, Tammuriata Nera, Wedding Sheets (by Kavisha Mazzella)
The Silent Film - Dall' Italia All' Australia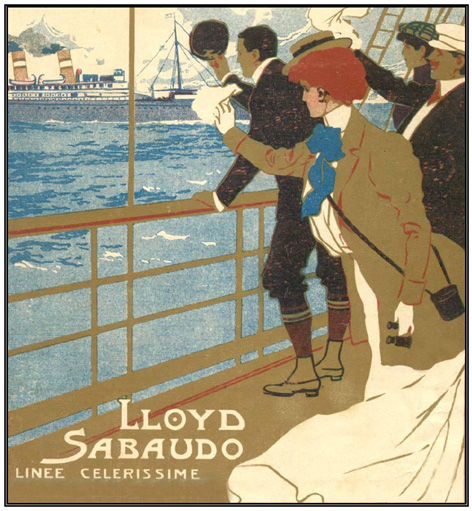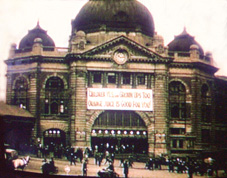 In 1924, the Italian film director Angelo Drovetti embarked on an epic 8,000-nautical-mile voyage with his movie camera. The result, Dall'Italia All'Australia (From Italy to Australia), is regarded by many as the most comprehensive film ever made of a migrant voyage. 'Dall'Italia All'Australia' chronicles the voyage of the Regina d'Italia (Queen of Italy) - one of three passenger ships first built for the Lloyd Sabaudo Line at the turn of last century. The film showcases the panoramic views witnessed by Italian, Yugoslav, Greek, Arabic and Jewish migrants as they stood atop the deck of the old steamer during their seven-week world odyssey from Genoa to Australia, by way of Egypt & Sri Lanka, arriving in September 1924. More information.
View showing of the film and band performance (Fairbridge Festival 2019)
What they've said about the film and music:
"it was a great function on Saturday (23 April 2016) – very moving, and we've had very positive feedback from members.

Thanks to you and your band members for the wonderful music and to Tony. It really exceeded our expectations."
Chez Di Chiera, The Ballarat Italian Association

News
The film Dall' Italia All' Australia with music by I Viaggiatori is now available on DVD!
The DVD includes the film, music from the recording Suitcase Serenata, the original passenger lists, an introduction by Tony De Bolfo and other background information and images.
Click here to order the DVD and
other products from the I Viaggiatori Store.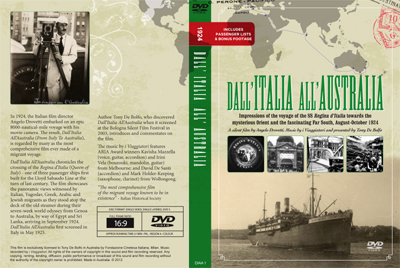 Previous performances
2019 Fairbridge Festival, Pinjarra, WA
2017 Country Victoria Tour - Tarwin Lower, Tyers, Cobram, Bena, Mirboo North, Toora, Lakes Entrance, Mallacoota, Wangaratta, Bright, Mount Beauty, Alexandra, Ruffy, Wodonga
2016 Societa Isole Eolie, Melbourne
2016 Ballarat Italian Association
2015 Festival of Voices, Moonah Arts Centre, Tasmania
2015 Castlemaine State Festival
2014/2015 Woodford Folk Festival
2014 Illawarra Folk Festival
2013 National Folk Festival
2012 Australian Worldwide Music Expo, Melbourne
2012 Piers Festival, South Melbourne
2011 Global Carnival Bellingen
2010 Port Fairy Folk Festival (film and music)
2010 Yungaburra Folk Festival, Qld (film and music)
2010 and 2007 National Folk Festival, Canberra (film and music)
2010 and 2008 Brunswick Music Festival (film and music)
2009 Fremantle Town Hall (film and music)
2009 Adelaide's Hellenic Cultural Festival ODYSSEY (film and music)
2009 Greek Festival of Sydney (film and music)
2009 Illawarra Folk Festival (film and music)
2008 Italian Week in Wollongong, Bowral, Milton (film and music)
National Maritime Museum, 2008, 2009 (film and music)
Chauvel Cinema, Sydney 2009 (film and music)
2007 National Folk Festival (first showing of the film and music)
Web Page Additions
Passenger lists from the 1924 voyage of Regina D'Italia as depicted in Angelo Drovetti's silent film: DALL' ITALIA ALL' AUSTRALIA

Recording - Suitcase Serenata
Click here for details on how to get a copy.
Review by Seth Jordan, ABC Limelight Magazine
I Viaggiatori (The Voyagers) is a bit of an Aussie world/folk supergroup. Formed in 2006 by veteran Italian/Australian singer-songwriter Kavisha Mazzella to provide a score for the silent film documentary Dall' Italia All' Australia, the quartet features Greek bouzouki/mandolin player Irine Vela (Habibis), accordion virtouso David De Santi (Wongawilli/Zumpa) and clarinet/saxophone Mark Holder-Keeping (Cantolibre/Zumpa). With a charming combination of Italian standards, original songs by Mazzella and a touching version of 'Waltzing Matilda', this all acoustic album chronicles the hopes and memories of our Italian community. An authentic, joyous and well performed musical travelogue.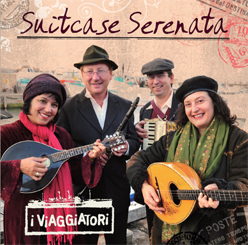 Suitcase Serenata - performed by I Viaggiatori
Angellare' 4:25
Wedding Sheets 3:35
Reginella Campagnola (instrumental) 1:41
Mamma Mia Dammi Cento Lire 4:47
Canzone della Lega 3:00
Funiculi Funicula (instrumental) 2:20
Ciucciu Bellu 3:08
Bella Ciao 3:19
La Mazurka di Carolina (instrumental) 1:57
Tzivaeri 3:58
Tammuriata Nera 3:19
Valzer di Mezzanotte (instrumental) 4:12
Valzer della Fisarmonica 3:01
Santa Lucia 4:48
Tarantellas (instrumental) Sam's Tarantella / Raimondo's Kitchen / Abballati 4:58
Madonna Del Mare 4:19
Waltzing Matilda (instrumental) 2:10
I Viaggiatori, Contacts
General contact info@viaggiatori.com.au
https://www.reverbnation.com/iviaggiatori
Kavisha Mazzella kavisha@kavisha.com www.kavisha.com
David De Santi david@goodtunes.com.au
https://www.reverbnation.com/musician/daviddesanti
Dall' Italia All Australia - The Film Contact
Tony De Bolfo adebolfo@bigpond.net.au